Even though I really don't have time for this, I am committed to
you
, dear reader. So here it is, my top ten Christmas movies. (Even though it was only supposed to be five, so I'm doing two per post) Also, the order is kind of loose.
One of the better interpretations of the Charles Dickens classic, A Christmas Carol. Bill Murray is the cold and ruthless TV programming exec. Frank Cross. Cross overworks his secretary, Grace, and abandoned his family and girlfriend (Karen Allen) in favor of career advancement. He is visited by three spirits (including David Johansen and Carol Kane as the ghosts of Christmas past and present respectively) Lots of sarcasm and laughs along with the classic happy ending make this a holiday must-see.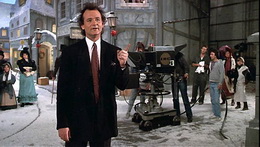 #9 Rudolph the Red-Nosed Reindeer
Out of the seemingly infinite number of Rankin/Bass holiday specials, Rudolph the Red-Nosed Reindeer is my favorite (aside from the Snow Miser/Heat Miser song from The Year without a Santa Claus). I love that there is an elf who wants to be a dentist who befriends a reindeer with a bulbous, glowing red nose. (Who comes up with this stuff?!)
And who can forget about the island of misfit toys? (Um, me. For some reason I thought that it was in one of the other specials.) Also, did anyone else think that "Hermey" was actually "Herbie"? I believed this for years, but a couple years ago someone said that it is actually "Hermey".