There are few movies that I will watch over and over and never get sick of. This is one of those movies. Usually I assume that everyone has seen this movie at least once, but I have recently discovered that a good chunk of the latest generation have never even heard of it. Pity.
For those poor, unenlightened people who have never encountered The Goonies, here is a brief synopsis. A group of families living in the "Goon Docks" (in Astoria, WA) are being forced to sell their houses to a developer who plans to demolish them. Mikey Walsh and his band of friends, the Goonies, find a treasure map in his attic and decide to go on one last Goonie adventure to find One-Eyed Willy's treasure so that they won't have to move. The group is soon joined by Mikey's brother Brand, and Steph and Andy (who Brand knows from school). The group is pursued by the Fratellis, who are hiding out following a jail break.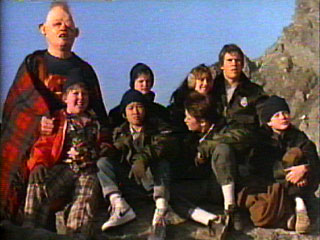 My Commentary:
This movie has adventure and fun. What more could you possibly want? The underdogs go up against everyone possible - they defy their parents, they continuously outwit the criminals, they stick it to the uppity rich kid, they have to dodge a pirate's booby traps, and there's even a corporate villian. As if all that wasn't enough, the ultimate goal of the movie is to find a pirate's treasure, what kid doesn't dream of finding a pirate's treasure?
Rating: ********** (10 out of 10)